December 24, 2021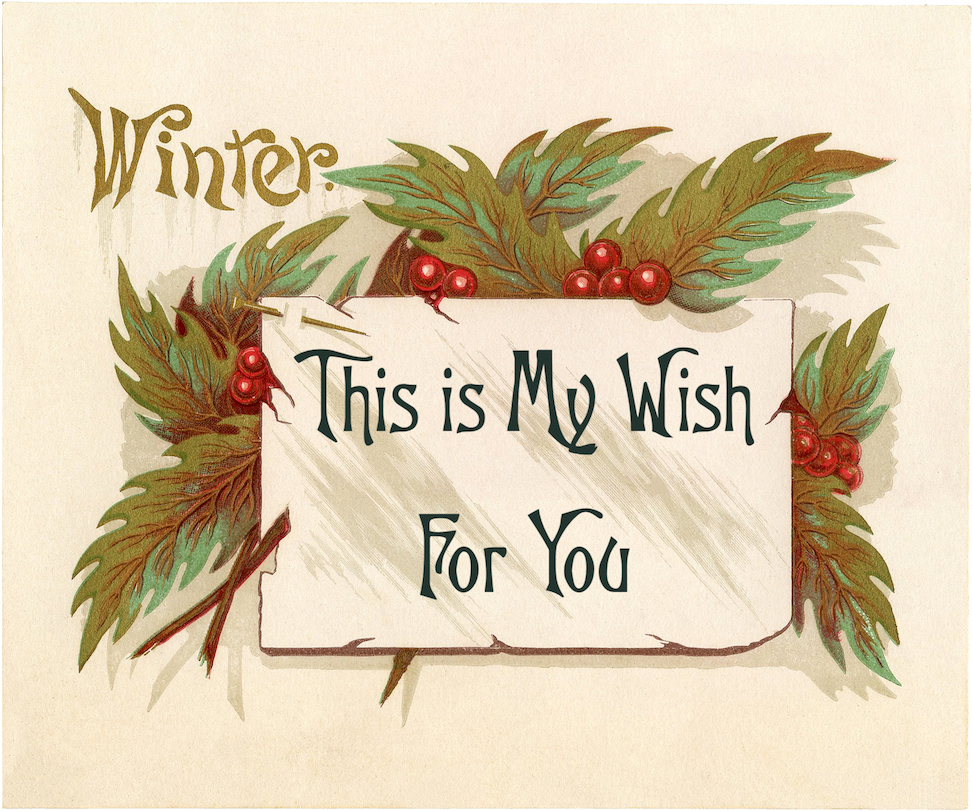 Winter, the quiet season, has arrived. Beyond the hustle and bustle of the current festivities, winter is a time for shorter days, staying indoors and quiet contemplation. It is a season that offers us an opportunity to look back on where we've been and to look forward to all the possibilities held in the promise of a new year.
In that spirit, I would like to share a poem with you. Written by Charles Snell and published in 1914 as a small gift book, it has long been one of my favorites:
This Is My Wish For You
This is my wish for you…
That the spirit of beauty may continually hover about you
And fold you close within the tenderness of her wings.
That each beautiful and gracious thing in life
May be unto you as a symbol of good for your soul's delight.
That sun-glories and star-glories,
Leaf-glories and bark-glories,
Flower-glories and glories that lurk in the grasses of the field,
Glories of mountains and oceans,
Of little streams of running waters,
Glories of song,
Of poesy,
Of all the arts,
May be to you as sweet, abiding influences
That will illumine your life and make you glad.
That your soul may be as an alabaster cup,
Filled to overflowing
With the mystical wine of beauty and love,
That happiness may put her arms around you,
And wisdom make your soul serene,
This is my wish for you.
~ by Charles Snell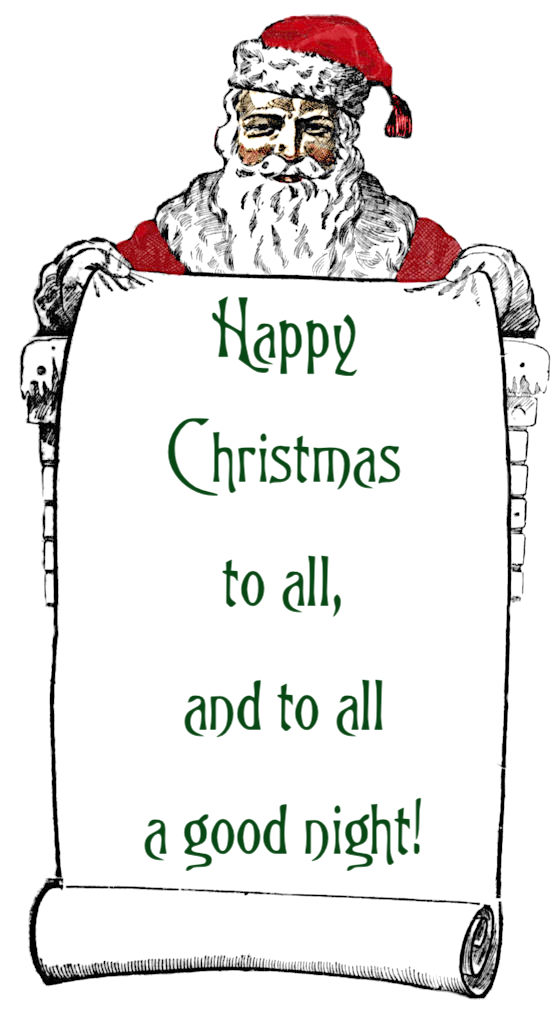 ~~~~~~~~~
Chestnut Chocolate Chip Cookies are a super yummy way to enjoy oven-roasted chestnuts.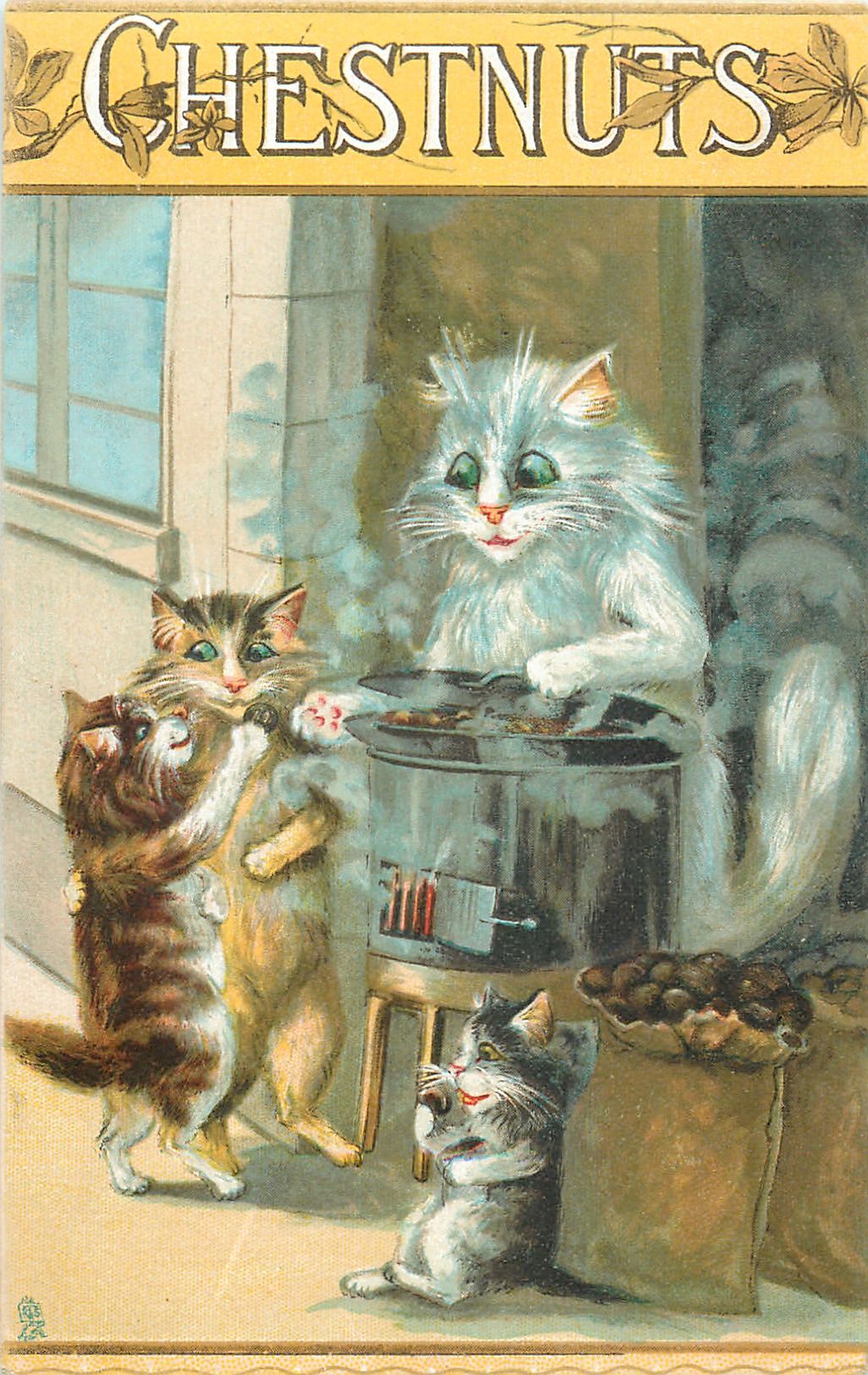 Chestnut Chocolate Chip Cookies
Years ago on a trip to New York City, I bought some roasted chestnuts from a street vendor and was kind of "meh" about the flavor and texture. Skip to present day when I recently saw some imported Italian chestnuts for sale at Trader Joe's and decided to give them another try. The win-win was achieved by incorporating the chopped, oven-roasted chestnuts (instructions below cookie recipe) into a batch of buttery, yummy chocolate chip cookies.
2 & 1/4 cups all-purpose flour
1 teaspoon baking soda
1 teaspoon salt
1 & 1/2 cups brown sugar (I used Turbinado sugar)
2 large eggs
1 & 1/2 teaspoons vanilla extract
1 cup butter, melted and cooled to room temperature (I used salted)
2 cups semi-sweet chocolate chips or chunks (I used chunks)
1 cup chopped, oven-roasted chestnuts (instructions below recipe)
Preheat oven to 375°F
In a medium bowl, using a large fork, combine flour, baking soda and salt. Set aside.
In a larger bowl, beat eggs and sugar together until lightened in color. Add vanilla and butter and beat again until fully mixed and creamy.
Gradually beat in dry ingredients.
Add chocolate chips or chunks and chopped chestnuts to batter and mix in well.
Drop by rounded tablespoon, 1-2 inches apart, onto ungreased baking sheets (I lined mine with parchment paper).
Bake for 10 to 12 minutes or until edges are browned and cookies look firm. Let baked cookies set for a couple of minutes and then move them to a wire rack or foil-lined counter to cool completely (unless you want to try a warm one or three).
Makes 4 or 5 dozen cookies
Oven-roasted Chestnuts
Use fresh, raw chestnuts (not canned). Check each nut for freshness: look for chestnuts that are firm, shiny and feel heavy. Toss any wrinkled or dull-looking ones. I started with a 16oz bag of raw chestnuts and had to throw out several nuts that didn't seem fresh both before and after roasting, so I ended up with just a bit over 1 cup of chopped nuts.
Preheat oven to 425°F
Put the chestnuts flat-side down on your work surface and use a sharp knife to cut an X shape into the rounded side of each nut. You want to pierce the skin without cutting all the way through the meat of the nut. This keeps the nuts from exploding during roasting and makes them easy to peel.
Place the nuts on a baking sheet in a single layer. Don't crowd them.
Roast the nuts in a 425°F oven for 20 to 40 minutes until the skins have curled back, revealing the softened nut meat. The cooking time will vary, depending on the size of the nuts, so check them visually at around 25 minutes. You can test if the nutmeats are done by inserting the tip of a knife into the opening where the skin has pulled back. If it easily pierces through, they are ready. If not, bake for a bit longer.
Cool the roasted nuts completely. After cooling, peel the skins off using your hands. You can use a paring knife for skins that need a bit more effort. Throw out any super hard nutmeats or nuts that look withered. Chop nuts into small chunks and measure out 1 cup for cookie recipe.