November 22, 2023
"How lucky I am to have something that makes saying goodbye so hard."
~A.A. Milne (from the book, Winne the Pooh)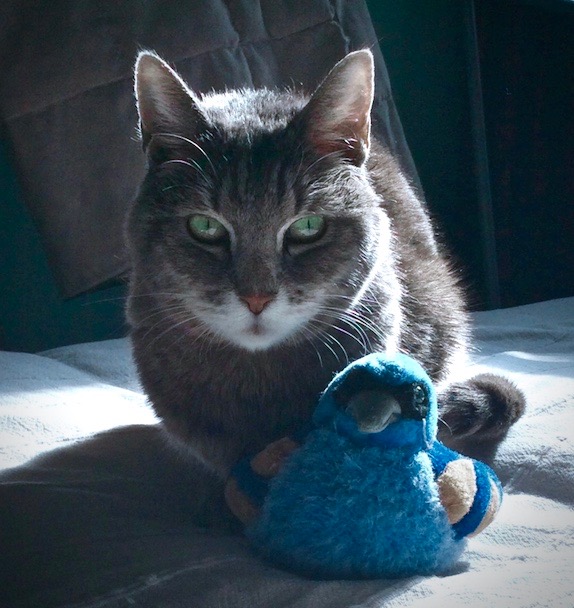 Having written about my dear kitty Sofia just a few months ago, I wasn't planning on making her the main subject of my Thanksgiving post this year.
Unfortunately, on October 18th, at the ripe old age of 21 years and 7 months, my sweet girl Sofia passed beyond the veil between the worlds and moved on to a new life beyond her earthly one.
I was Sofia's mom from her 2nd day on this earth to her last one. She died in my arms, after hearing me sing her favorite songs to her one last time. Thankfully, my friend Geraldine was there with me and Sofia as she passed over. I don't know how I would have gone through it without her there.
It has taken me the past month to get to a place where I can focus more on my gratitude for being able to be her mom and for having had her sweet presence around the house for so many years, from almost her first day on earth to her last.
Thanksgiving Day is one of my favorite holidays for this reason. I'm a "foodie", so an excuse to cook and enjoy comfort dishes is always welcome. Gathering with friends and/or family can provide the opportunity to create wonderful and lasting memories. However, the most precious part of this holiday for me is the focus on gratitude. The day named for giving thanks helps us to stop and spend a few moments coming into an awareness of the many good things in our lives.
The seemingly ever-increasing speed of modern life, viewed so often these days through the lens of technologies that push information around the world within seconds, often causes us to miss small but significant joys and blessings in our everyday lives. The ritual of Thanksgiving Day provides us a few moments to stop, look around and honor the many miracles of love, light, healing and hope that exist along with all of the superfluous noise.
I am so grateful for the chance I've had to love already and the infinite chances I will have to love even more.
A few days after Sofia passed, my friend Francesca was making pancakes for her daughter and one of them, completely randomly, came out in the shape of a cat's face. Francesca, who, like me, often picks up on little signs and signals from beyond, immediately sent me a photo: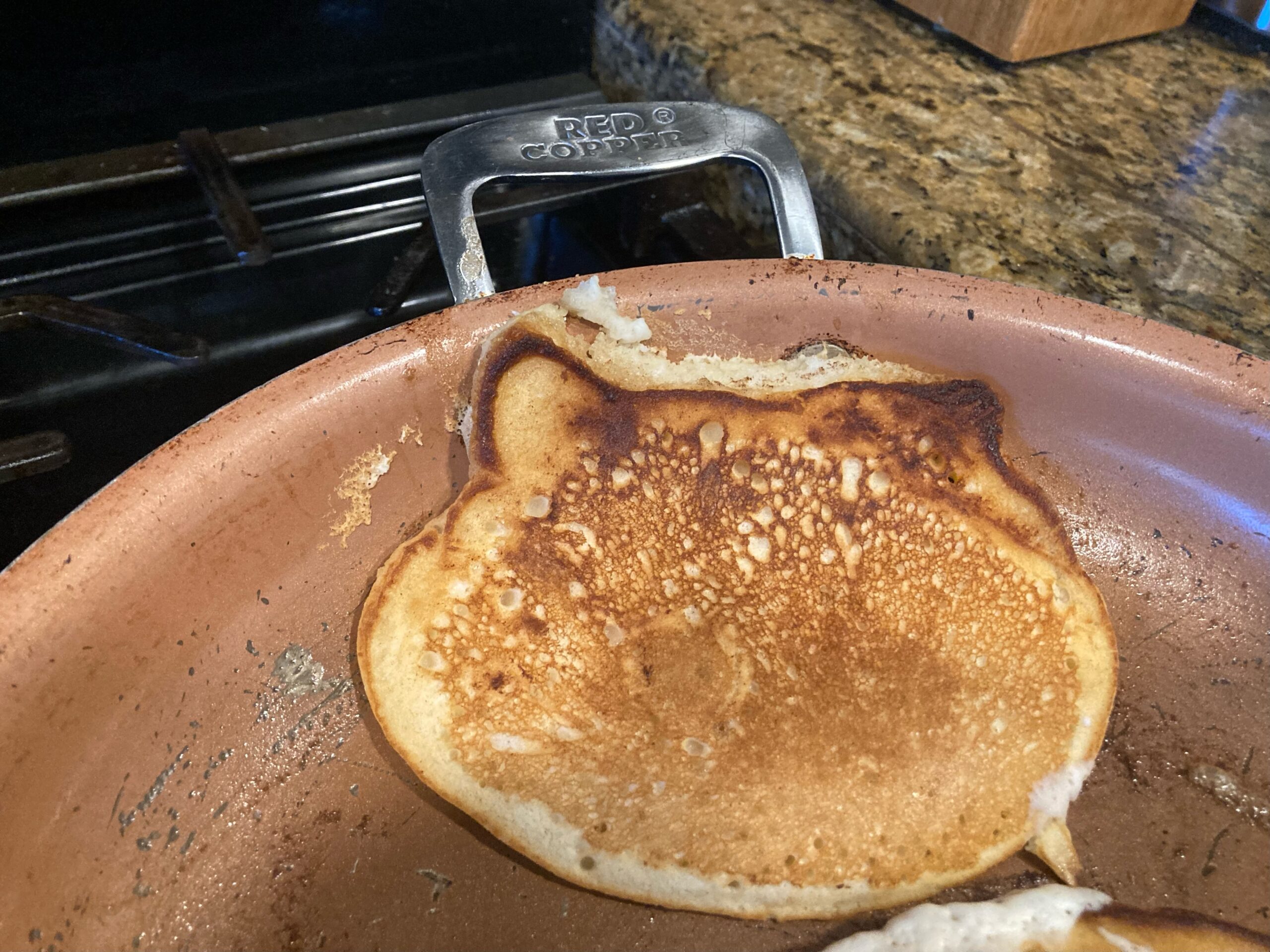 This little miracle of batter pouring felt like a "Good Morning!" from Sofia from beyond the veil between the worlds. I'll bet my love is also finding a way to express to her in some way, wherever or whenever she is currently.
"One thing you should know, no matter where you go, we'll always be together."
~A.A. Milne (from the book, Winnie the Pooh)
To everyone reading this post and to each person who is dear to you and to each one you may encounter during this holiday season:
I wish you the joy that comes with connection, the hope that comes with healing and the transformative power of giving thanks for the gift of love.
~~~~~~~~~
Make Gingerbread Pancakes with Apple Butterscotch Syrup this holiday season and comfort food can begin your day as well.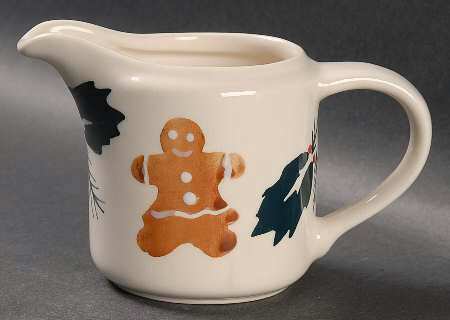 Gingerbread Pancakes with Apple Butterscotch Syrup
These are some of the yummiest pancakes I've made! The not-too-thick syrup has a slight tang to it that compliments the gingerbread flavor nicely. These are not difficult to prepare and make a delightful treat on any winter morning.
For Apple Butterscotch Syrup:
1 cup unfiltered apple juice
3 tablespoons organic maple syrup
1 tablespoon packed golden brown sugar
1 tablespoon fresh lemon juice or fresh orange juice
2 tablespoons unsalted butter, cut into several small pieces
For Gingerbread Pancakes:
1 & 1/2 cups all-purpose flour
1 teaspoon baking powder
1/4 teaspoon baking soda
2 tablespoons packed golden brown sugar
1/2 teaspoon salt
1 teaspoon ground ginger
1 & 1/2 teaspoons ground cinnamon
1/4 teaspoon allspice
2 large eggs
3 teaspoons unsalted butter, melted but not hot
1/2 teaspoon vanilla extract
1/4 teaspoon organic blackstrap molasses
1 & 1/2 cups water
First make syrup:
In a small, heavy saucepan, over medium-high heat, stir together apple juice, maple syrup, brown sugar and lemon or orange juice. Bring to a boil, then reduce heat to medium. Boil gently, stirring occasionally, until reduced by half (about 15 minutes). Turn off heat and add the butter, a piece at a time, stirring to melt and combine between each addition.
Serve warm over gingerbread pancakes.
To store: let syrup cool, tightly cover and refrigerate until ready to use. Rewarm syrup, to reincorporate butter, just prior to serving. Use within one week.
To make pancakes:
In a large bowl, combine flour, baking powder, baking soda, brown sugar, salt and spices. Set aside.
In another bowl, whisk eggs with the butter, vanilla and molasses until smooth. Add water and whisk again until well mixed. Stir the flour mixture into the molasses mixture until just combined. Do not overmix.
Heat a lightly oiled or buttered griddle or frying pan over medium-high heat. Drop batter onto the pan by large spoonfuls (about a scant 1/4 cup at a time). Cook until you see bubbles forming across the top surface of the pancake and that edges are dry. Flip and cook until browned on other side. Repeat with remaining batter. You can keep finished pancakes warm in a 200°F oven while you cook remaining pancakes.
Serve lightly drizzled with warm Apple Butterscotch Syrup.
Makes 10 to 12 pancakes
Serves 4