June 26, 2015
"Flowers don't worry about how they're going to bloom.  They just open up and turn toward the sun, and that makes them beautiful."
~ Jim Carrey

Just outside the yoga deck, hidden within a secret garden, at Sunflower Retreats.
Happy Belated Summer Solstice!
Regular Philosopher's Spoon readers may have noticed that my posts have been less frequent during the past few months.  This has been due to a period of particularly intense, challenging and exciting events in my life during the spring of 2015.
First of all, I moved to a new house, accompanied by all of the searching, packing, planning and general upheaval that comes with a change in abode.  In addition, all of this relocating activity was happening at the same time that I was preparing for a three week trip overseas to teach yoga.
I have just returned from Italy, where I was lucky enough to say goodbye to the spring season at Sunflower Retreats, a yoga holiday destination in Casperia, a medieval hill-top village, located about an hour north of Rome.
I spent two inspiring weeks with wonderful visiting yogis; the warm and gracious owners of Sunflower, Lucy and Alan; the onsite therapist Ciara and her contagiously happy dog Henry; and the amazing Addie, who made sure everyone was happily nurturing their chakras and having a wonderful time.
I ended my trip by welcoming the first day of summer in the eternal city of Rome.
I am still a bit jet-lagged and overwhelmed.  But I thought I would share a few photos from my adventures: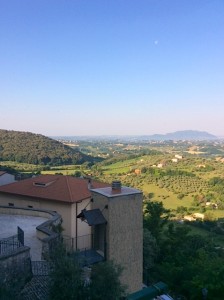 Above is an early morning view from my apartment in Casperia, the hilltop village where Sunflower Retreats is located.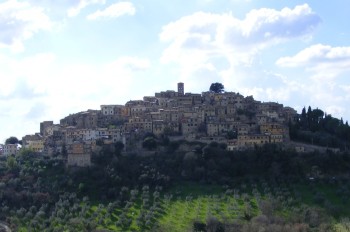 There I walked up and down the ancient steps of the town, from my apartment to the yoga deck, to the local grocery store, and often to the insanely good local restaurant, Osteria Vigna.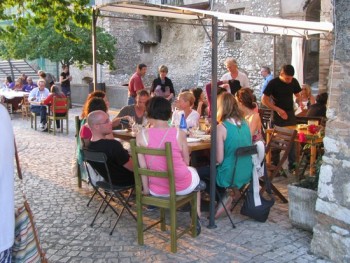 Vigna is co-owned by an English expat and an Italian trekker and Star Wars nerd.  During one of my visits, I noticed that his cellphone ringtone was Darth Vader's signature breathing, the sound of which can seem coincidentally similar to the that of "Ujjayi Breath" a technique common in yoga practices.  A life-sized cutout of Spock giving the Vulcan Salute stands in the bar area, and greeted me as I enjoyed superb dishes such as ravioli with ricotta, lemon and sage; a feather-light carrot flan and a scrumptious gelato ball covered in white chocolate and drowned in espresso.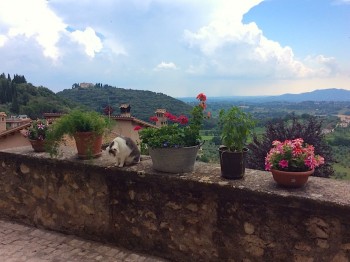 Cats are everywhere in Casperia, as well as beautiful views.  The photo above is from one of my walks to the local grocery store, where I bought fresh zucchini flowers and a wonderful mozzarella.  I sautéed the flowers in olive oil until tender and added them into hot fusilli pasta, along with chunks of the cheese.  Stirring all of this together soon caused the melted cheese chunks and flowers to join together, creating a large, chewy ball of mozzarella and tender zucchini flowers sitting in the center of al dente pasta; it was delicious nonetheless.
I also found ready-to-fill mini cannoli shells at the market, which I stuffed with a mixture of smooth ricotta, mascarpone, cherry preserves, lemon zest, sugar and cinnamon.  I shared a bit of this inspiration from my Sicilian ancestors with some of the staff and guests at the retreat.
My time teaching at Sunflower Retreats was unforgettable.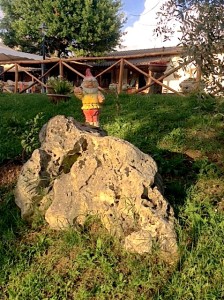 This gnome, outside another local restaurant, greeted me with both a fist bump and a thumbs up sign.  Just one of Casperia's friendly locals, he seemed to be saying, "Torna presto!" (come back soon).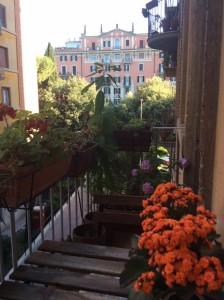 From Casperia I ventured to Rome for the last part of my trip.  There I enjoyed this view from the balcony of my apartment, a comfortable VRBO located in the fashionable Prati neighborhood.  In the mornings I would have coffee; in the afternoons I would savor the rare treat of Coca Cola made according to the original recipe: with sugar, instead of the corn syrup that is now used in the United States production of the famous soft drink.
I had an amazing authentic Roman lunch at Da Enzo al 29, courtesy of my companion and authentic Roman, Paolo.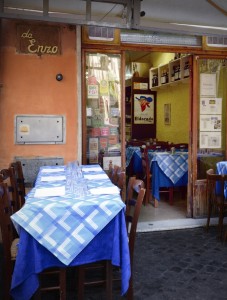 Da Enzo's food was a revelation.  From the creamy burrata cheese served with basil, baby tomatoes and olive oil;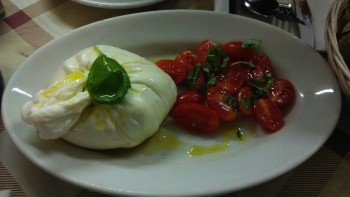 to the Carbonara (rigatoni with guanciale, a cured pork specialty from central Italy, pecorino cheese, and a velvety sauce of organic eggs);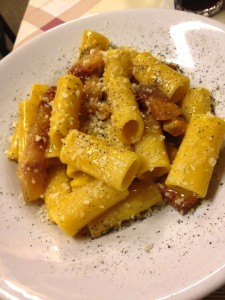 to the heavenly dessert, a feather-light mascarpone mouse, made with organic eggs and tiny, wild strawberries: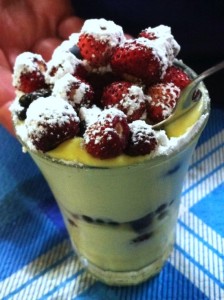 While enjoying this incredible meal, I overheard a conversation at the next table, occupied by a group of men who had traveled to Rome from northern Italy, planning to protest the idea of gay marriage.  Apparently, they were upset because another group had shown up to their event to protest them.
I thought of those men today, when the historic U.S. Supreme Court decision was announced that gay marriage is a constitutional right, guaranteeing the ability of same sex couples to marry, throughout all of the United States.
If I were sitting next to them at this moment, I would turn and offer them a translation of our President's words today on Twitter, "l'amore vince!"
Love wins!
~~~~~~~~~
Fusilli with Sunflower Seeds, Parsley and Parmesan was created one evening during my stay in Casperia.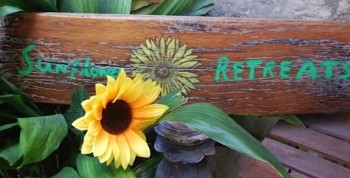 Fusilli with Sunflower Seeds, Parsley and Parmesan
I bought the ingredients for this dish, intending to make a sunflower pesto.  Upon realizing that I had no food processor or mortar and pestle, I decided to simply toss the ingredients together.  The result was simply delicious.
Ingredients:
5 or 6 cups of hot, cooked fusilli pasta, cooked al dente
(about 8 to 10 ounces dry)
1/2 cup of extra virgin olive oil
1 small clove of fresh garlic
1/3 cup of raw unsalted sunflower seeds
1/2 cup of chopped parsley, slightly packed
Zest of half a lemon
1 teaspoon fresh lemon juice
3/8 cup finely grated Parmesan cheese, plus more for the table
Place olive oil inside a large bowl.
Cut grooves into garlic clove and smash with a fork into the oil, releasing the flavor.  Stir well and discard the smashed clove.
Add the sunflower seeds, Parmesan, parsley, lemon zest and lemon juice.
Toss with hot cooked pasta and serve immediately.
2 to 3 servings