December 7, 2018
"Know what's weird?  Day by day, nothing seems to change.  But pretty soon, everything's different." ~ Bill Watterson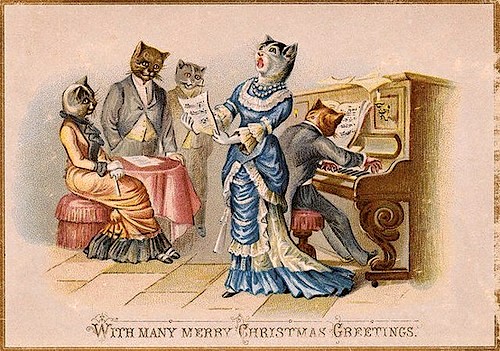 Need some cool and original ideas for holiday gifts?  Here are a few of my favorite things this season.  None of these vendors or artists have asked me to promote them; I'm just passing on some links to unique products or artists that I've discovered, enjoyed and wish to share, so that you can enjoy them too!
Following is a list of gift ideas, for yourself or others, that you may not have seen before:
The Gift of Musical Transcendence
Zafìs
A volte accade (Sometimes it Happens)
Check out the new album by Italian musician and composer Zafìs. This beautiful, ethereal piano music will carry you – relaxed and inspired – through the hectic holiday season and into a brand new year.
Here is the YouTube playlist. You can listen now, as you read this post:
Stream A volte accade by Zafìs on whatever service you use.
You can also get/give it as a gift via iTunes (links below).
Apple Music here
Spotify here
Google Play here
Amazon Mp3 purchase or streaming on Amazon unlimited here
Search on iTunes for:  Zafìs  A volte accade
How to gift this or other songs via iTunes – instructions here

The Gift of Cute Food
Tiny Hands Jewelry



If you're searching for a super-cute, unique gift for girl, teen or foodie hipster of any age (or a treat for yourself), visit Tiny Hands Online store for a drool-worthy menu of scented food jewelry that comes in all sorts of candy and food shapes like cupcakes, donuts, waffles, pizza, popcorn and more!  There's even a necklace-of-the-month club!  You can purchase a gift card here and let your recipient enjoy perusing through all of the delicious choices themselves.

The Gift of Creative Possibilities
Spoonflower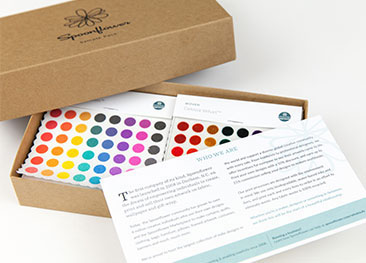 Spoonflower is an online site where individuals can design, print and purchase or sell their own fabric, wallpaper and gift wrap.  If you don't feel like designing but are looking for a fabric with a unique, cool or niche textile print (I found a gnome toile), there are thousands of unique and colorful designs to choose from.  A Fabric Sample Pack makes a fun stocking stuffer or small gift for someone creative.  Each sample pack contains a 4″ x 4″ printed swatch of each of their products.  The price is $3.00 and shipping is free.
Site is here
Sample pack can be ordered here

The Gift of Unique & Personal Jewelry
The Copper Poppy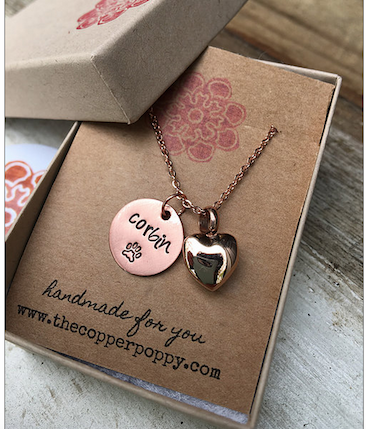 The Copper Poppy makes hand-stamped accessories for pets and people.  From personalized pet ID tags and memorial jewelry to cool people gifts, like commemorative bookmarks, necklaces, bracelets, key chains, guitar pics, cuff links and tie bars; this New Hampshire artist creates small works of art that are beautifully made and reasonably priced.  With so much to choose from, you may want to purchase a gift card, available here.  You can explore all the choices and styles here at the Copper Poppy site.
The Gift of Clean and Odor-free!
Boss Severe Stain & Odor Remover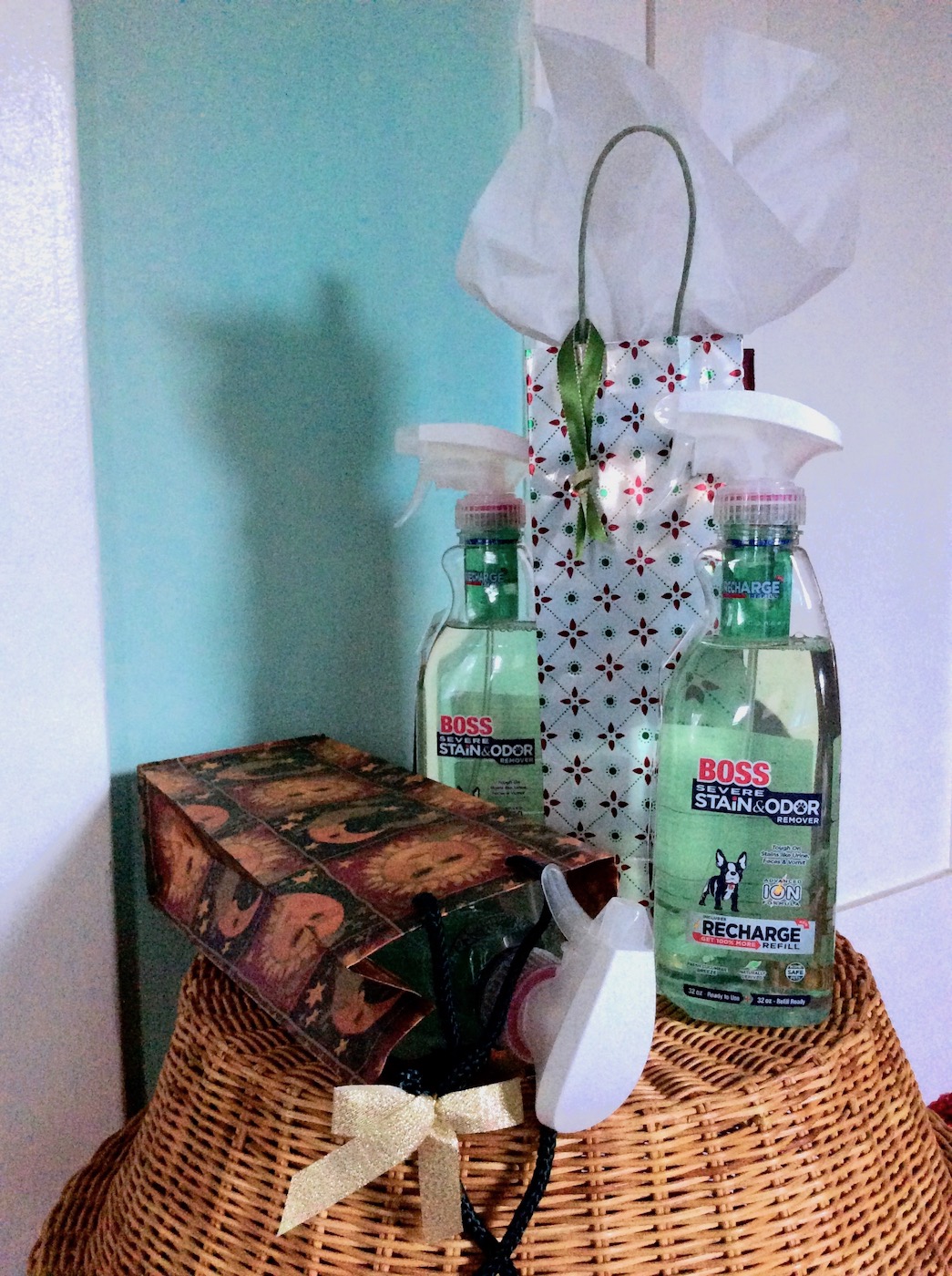 This stuff is a miracle!  It's the first product I've ever used that truly, thoroughly and completely neutralizes all pet stains and odors.  It uses charged ions to instantly lift and remove stains and odors at the source.  It's biodegradable and non-toxic.  Boss works on human stains and odors too (handy if you have an athlete in the family).  It even reduces the stink from the kitchen trash can.  The bottle is brilliantly designed to ensure that the sprayer works down to the last drop.  Plus, there is a refill included inside each bottle, as well as additional refills available for purchase, so you buy less bottles and throw away less plastic.
I'm giving Boss to my clients, friends and family who are pet owners.  Wine gift bags make the perfect holiday packaging (see my photo here above).  Boss can be found in the Greater Los Angeles area at Centinela Feed & Pet Supplies and in San Diego at Pet Kingdom.  For other areas or to order directly, visit the contact page on their website here.
The Gift of Feeding the Multitudes
World Central Kitchen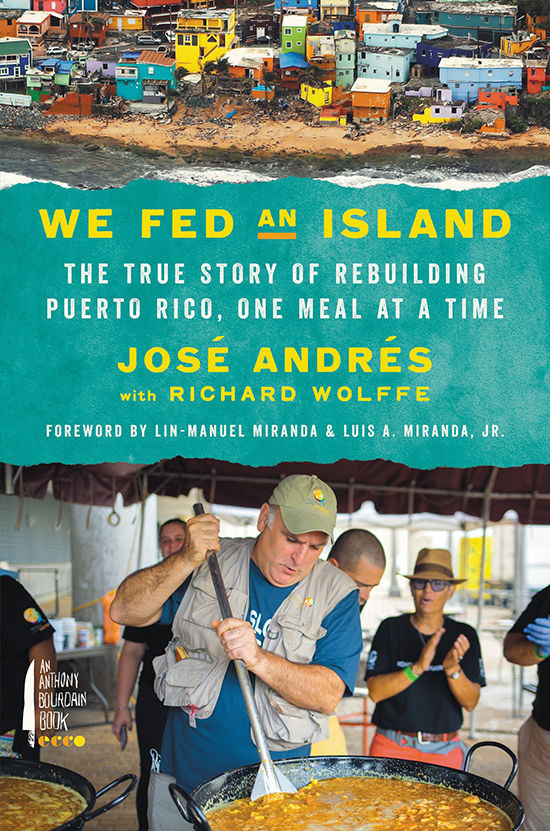 José Andrés founded World Central Kitchen after the devastating 2010 earthquake in Haiti, with the belief that food can be an agent of change.  Their chefs have since served meals in communities surviving disaster, such as the recent hurricanes in Florida, the Carolinas and Puerto Rico.  Most recently, WCK chefs and volunteers served over 50,000 meals to victims of the Camp Fire in Northern California and the Woolsey Fire in Southern California.
You can donate here.
Give a donation, paired with the new book:
We Fed an Island: The True Story of Rebuilding Puerto Rico, One Meal at a Time
Book can be purchased here.
Spanish version here.
The Gift of Hawaii from your Kitchen
Macadamia Coconut Brittle
This crunchy, buttery taste of the islands may be the most delicious gift of all.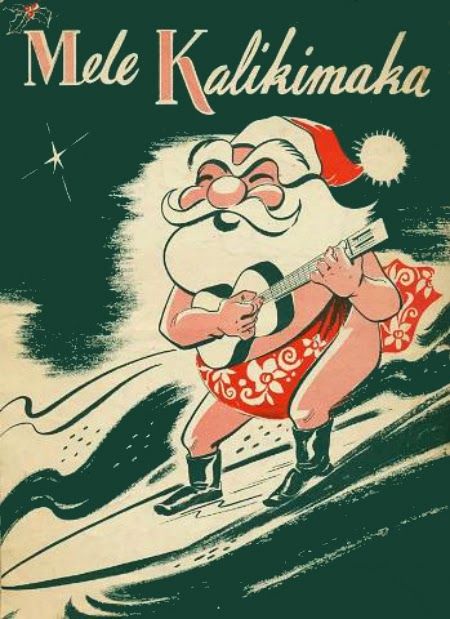 Macadamia Coconut Brittle
Mele Kalikimake means "Merry Christmas" in Hawaiian.  The graphic above is vintage, so you can print the image and use it as a gift tag for your homemade brittle – a little bit of tropical yummyness to warm up your fall and winter taste buds.  This is so good, you may want to make a double recipe!
Ingredients:
3 tablespoons butter (plus more for greasing pan)
3/4 cup unsalted, halved macadamia nuts
1/2 cup unsweetened coconut flakes
1 cup organic sugar
1/4 cup water
1/2 teaspoon baking soda
Line a baking sheet with foil and grease lightly with butter.  Set aside.
In a small skillet, over medium heat, melt 3 tablespoons butter.  Add the macadamia nuts and cook, stirring constantly, for 2 minutes.  Remove from heat and immediately stir in the coconut.  Set aside.
In a medium-sized heavy saucepan, over medium-high heat, cook sugar and water, stirring constantly, until mixture begins to boil (you can use a small brush dipped in cold water to wipe down the sugar crystals that cling to the sides of the pan).  Once mixture boils, stop stirring and let boil for 10 minutes or until a candy thermometer reaches 310°F (hard crack stage).  The mixture will be golden (I didn't use a thermometer; I just looked for a nice, deep, golden color).
Remove mixture from heat and stir in macadamia/coconut mixture and baking soda.  Stir well and quickly.  Pour immediately onto the prepared baking sheet and spread mixture into an even layer, using a metal spatula.  Allow to cool 30 minutes or until hardened.  Break into pieces.
Makes about 1 pound of candy