March 13, 2018
"We are now cruising at a level of two to the power of twenty-five thousand to one against and falling, and we will be restoring normality just as soon as we are sure what is normal anyway."
~ Douglas Adams, The Hitchhiker's Guide to the Galaxy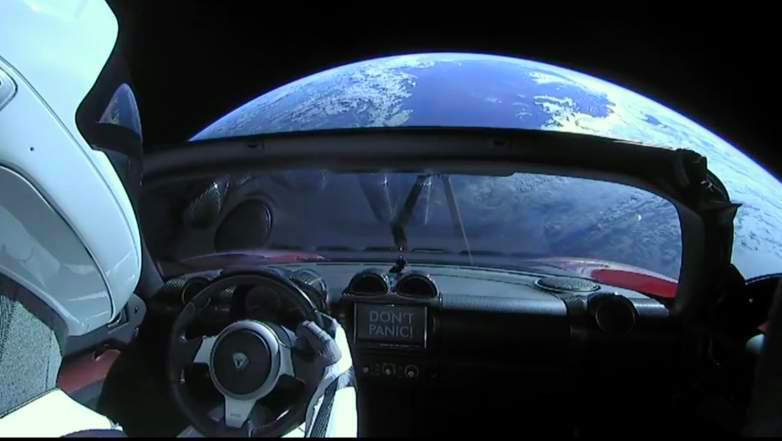 In case you missed the historic February 6th flight of SpaceX's Falcon Heavy rocket and the launch of Elon Musk's Tesla Roadster, "driven" by a dummy astronaut named "Starman" to the tune of David Bowie's "Life on Mars", Space X has just released a short video of the inspirational event:
With all of the chaos and uncertainty flooding the daily news cycle, this monumental achievement by Musk and the folks at SpaceX reminds us that there are still amazing things to be achieved and plenty of reasons to keep hope alive.
For several hours after the launch, the vehicle broadcast live views of various positions on the car, my favorite of which peeks from behind the driver to show the view ahead of our beautiful blue home planet Earth.  The SpaceX YouTube channel shows a replay of the 4 hour recording:
Watching the Starman, casually cruising around the Earth, his left hand resting on the door of the super-cool red roadster and his right hand on the steering wheel, reminds me of the importance of perspective.  Far above the Earth, away from the daily noise and chaos and pettiness, the triumphs and the tragedies, the hopes and fears, one sees the quiet and constant beauty of our unique home planet.  The view from above is amazing.
The perspective of time is equally important.  This beautiful five-petaled flower was created by the geometric dance made by the relative positions of Earth and Venus over an 8-year period: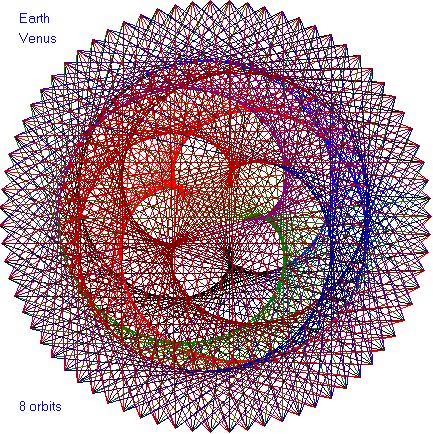 The mathematically gorgeous pattern illustrated above was inspired by John Martineau's book A Little Book of Coincidence, which illustrates the orbital movements of planets and their geometric relationships.  More planets and patterns can be found here: Dances of the Planets.
The view can also be beautiful and inspiring at the level of the very small.  These are microscopic crystal flowers grown by engineers at Harvard University.  They are thinner than a strand of hair and too small for a bumblebee to see: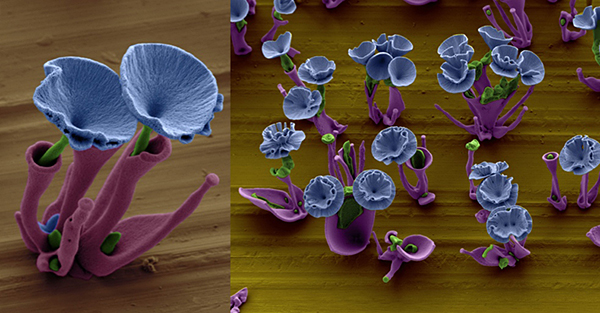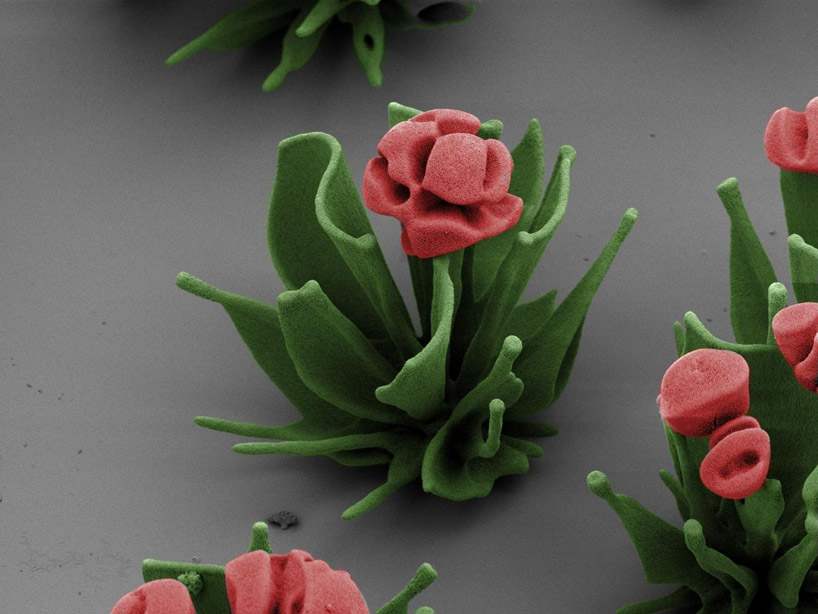 So, when you feel overwhelmed by the pace of absurdity and uncertainty, don't panic; change your perspective. A little bit of distance in time or space can reveal magical possibilities.
~~~~~~~~~
In honor of Pi Day, here is a recipe for 360° of deliciousness in Ancient Roman-Style Sausage Patties.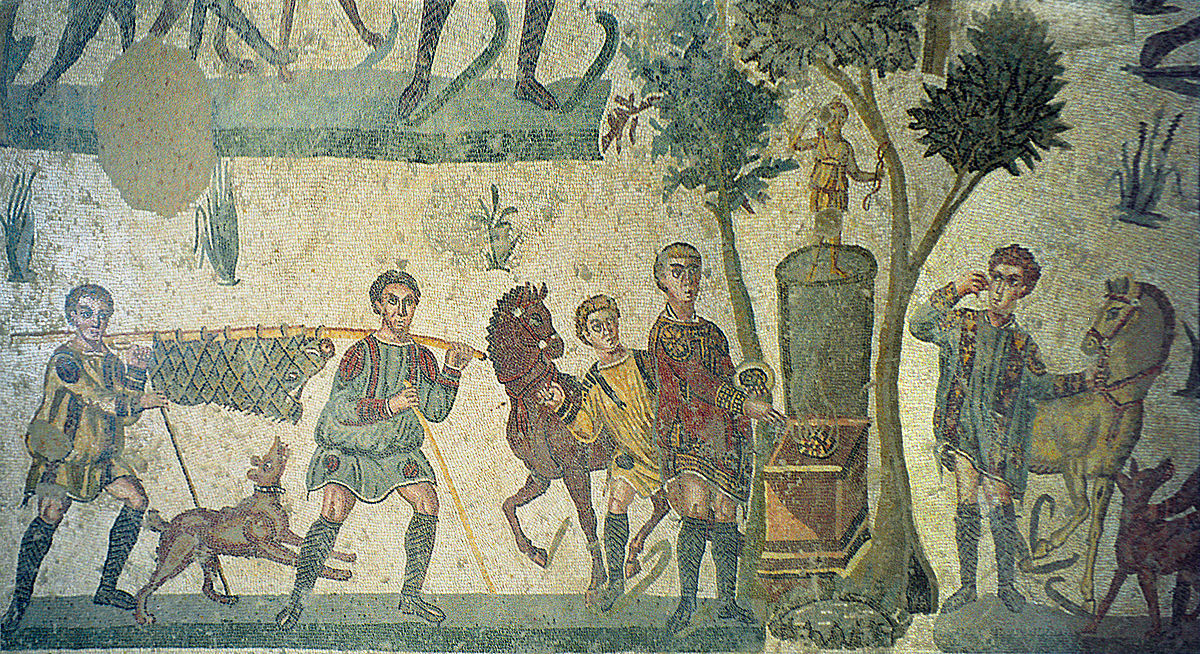 Ancient Roman-Style Sausage Patties
I based this flavorful, sophisticated sausage – peppery, herbal and smokey – on an ancient Roman recipe that was brought back to Rome by soldiers who had served in Lucania, which was located in what is now Southern Italy.  Having ancestral origins from both Sicily and Rome, I was curious to taste what my forebears may have enjoyed.  I have adapted the ancient version of the recipe with modern ingredients and to make without smoking or the need for casing.  I prefer my sausage without casing anyway, as it is often tough, and I usually remove it before cooking.  Because these are formed into patties, and cooked immediately instead of smoked and aged, they can be made with a minimum of effort and enjoyed right away.
Ancient Romans used a form of fish sauce called Garum to flavor this sausage.  That might sound weird to some of you, but this ingredient adds that extra "umami" dimension to the flavor and is not fishy-tasting at all.  The Roman garum sauce was different than the fish sauces found in modern Asian cooking. I have approximated the flavor of the ancient recipe by using a combination of balsamic glaze, dried oregano and Red Boat Fish Sauce, which is a very high-quality sauce.  It is made of salted black anchovies from Archipelago, with no additives and aged for over a year in traditional wood barrels.  You can find Red Boat Fish Sauce at Whole Foods, specialty stores and online.  Balsamic glaze is thicker and sweeter than balsamic vinegar.  You can find balsamic glaze at your local well-stocked grocer, Trader Joe's, Whole Foods and online.
1 lb ground pork or chicken
1/4 cup pine nuts
1/8 teaspoon dried oregano
1 teaspoon dried marjoram
1 teaspoon dried savory
2 bay leaves, crushed (leaf part only – throw out stems)
1 rounded teaspoon ground cumin
1/2 teaspoon finely-ground black pepper
2 teaspoons finely-chopped fresh, flat-leaf parsley
2 tablespoons Red Boat Fish Sauce
1 tablespoon balsamic glaze
1/2 teaspoon liquid smoke
1/4 teaspoon salt
Olive oil to cook (1-2 tablespoons)
Toast the pine nuts:
Spread the nuts on a baking sheet and bake at 375°F, stirring occasionally, until golden-brown (5 to 10 minutes).  Let cool.  Add cooled nuts to a small plastic zip bag and crush well using a rolling pin.
In a medium bowl, add crushed pine nuts.  Add remaining ingredients, except for the olive oil, and mix together well, using a large fork.  Cover bowl and chill mixture for 30 minutes.
Wash and rinse your hands in cold water.  Divide the sausage mixture into ten portions and shape each into a 2 & 1/2-inch disk.
Heat a non-stick skillet over high heat, lightly coated in olive oil.  Fry the sausage patties on each side until completely cooked through and golden brown, about 4 minutes per side.  Drain on paper towels and serve immediately.  Sausage patties can be fully cooked, cooled, wrapped and frozen for reheating in a toaster oven or microwave.
Makes 10 sausage patties