December 21, 2017
"Live quietly in the moment and see the beauty all before you.
The future will take care of itself."
~ Paramahansa Yogananda, Autobiography of a Yogi
Happy Winter Solstice!
2017 has been quite a ride.  As someone who is not fond of rollercoasters, the ups, downs and side-to-sides of the past year have been rather unsettling, to put it politely.  So the arrival of the Winter Solstice, which ushers in a light that will grow stronger each day, is a welcome metaphor.
In spite of appearances, darkness is waning.  The light is expanding from this day forward, until the first day of summer, when the Sun shines its brightest and longest, and our faith in the ultimate power of light over darkness is affirmed.
So, in honor of the return of the light and as an act of faith in the warmth, healing and new life it will eventually bring, stop; take a few conscious breaths and enjoy the holidays.  Surrender to the simple miracle of now.  Yesterday is done and tomorrow is at another location in time.  You are here, now.  Look around: what are you grateful for in this moment?
If you need help bringing your focus into the now, here is a simple exercise you can do anywhere:
How to Fix Your Gaze
Sit or stand comfortably, with spine lifted as if a string were attached to the top of your head, holding it up.  Balance your weight across the surfaces of both feet. Gently engage your abdominal muscles and keep them tucked in.  Begin to breathe, in and out of your nose (if possible),  slowly, deeply, fully.  Make your exhales the same count as your inhales, or slightly longer.  Now find a small object or spot out in front of you and focus your gaze softly on that one point, letting everything around it become a blur.  If you are indoors, perhaps you can fix your gaze on an ornament on the Christmas tree, a bow on top of a package or a steady candle flame across the room.  If you are outside, find pebble on the ground, a flower or a blade of grass  – anything that is not moving.  Breathe in and out, softly gazing at that one point in the distance.  That point is your now.  The blur that surrounds it symbolizes the past and future clamoring for your attention; tune them out. Gaze steadily at your point of focus, breathing evenly and fully, anywhere from several breaths to a few minutes.  You can end the exercise by giving thanks to the object and this unique moment in time.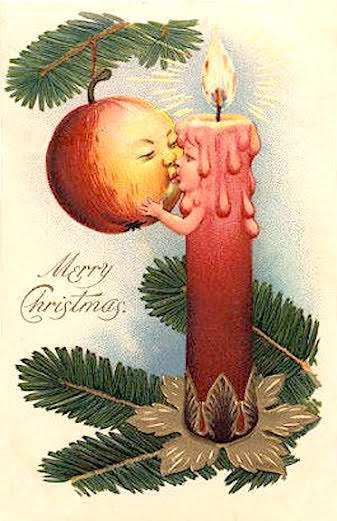 "I'd kiss a frog even if there were no promise of a Prince Charming popping out of it.  I love frogs."
~ Cameron Diaz
~~~~~~~~~
Need a last-minute gift to bring to a holiday party or dinner?  Tiramisù Truffles are deliciously easy treat to put together.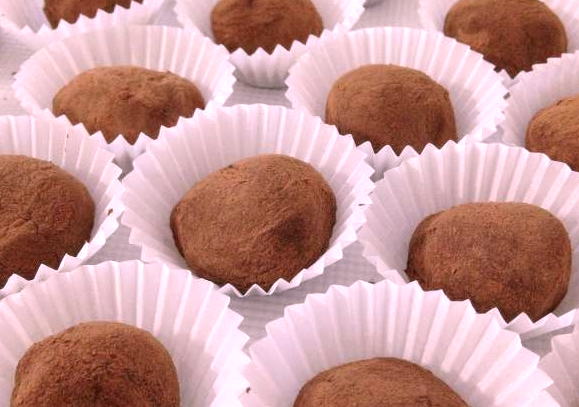 Tiramisù Truffles (Tartufini al Tiramisù)
With a few ingredients and a little bit of your time, these rich and sophisticated treats are easy to make and will be chilled and ready to give in a few hours.  Be sure to let your recipient know they should be refrigerated.  The key here is quality ingredients.  Be sure to use good, strong espresso or coffee and good quality cocoa powder.  I used Equal Exchange Fairly Traded Organic Baking Cocoa, available at Whole Foods.
Ingredients:
74g (8-9) lady fingers/savoiardi
8 oz tub of mascarpone
1/4 cup organic sugar
2 tablespoons cold, strong, sweetened coffee*
2 to 3 tablespoons cocoa powder/baking cocoa
You will also need:
18-21 mini cupcake liners/candy papers
A large plastic zip bag
A rolling pin
*Sweeten espresso or strong coffee to your taste and measure after coffee has cooled.
Place lady fingers in a large plastic zip bag and crush using a rolling pin.  You may need to use the ends to break up the cookies and then roll to crush.  Set aside.
In a medium bowl, combine mascarpone and sugar with a spoon.  Add the cold, sweetened coffee/espresso and mix until fully combined and smooth.  Use the back of the spoon to make sure all the mascarpone is incorporated.  Add the crushed lady fingers and mix completely.  Cover the bowl and chill for 30 minutes.
To make truffles:
Remove mascarpone mixture from fridge.  Place cocoa powder in a small, shallow bowl.  Separate the mini cupcake liner/candy papers and set them up on a baking sheet or pan.
Wash your hands thoroughly.
Take about a tablespoon of the mixture and roll gently between clean hands to form a ball.  Roll the ball in the cocoa powder until fully covered.  Carefully place the finished truffle inside one of the papers.  Continue, rolling mixture into a ball and coating with cocoa until all the mixture has been used up.  Cover the tray of finished truffles and chill in fridge for 2 to 3 hours.
Package in a small gift box to take as a hostess gift or set on a pretty platter to serve as part of your holiday dessert tray.  Store in refrigerator until ready to serve.  Store any leftovers (there probably won't be any) in fridge as well.
Makes 18 to 21 truffles.