June 10, 2017
"Three things cannot long be hidden: the sun, the moon, and the truth."  ~Buddha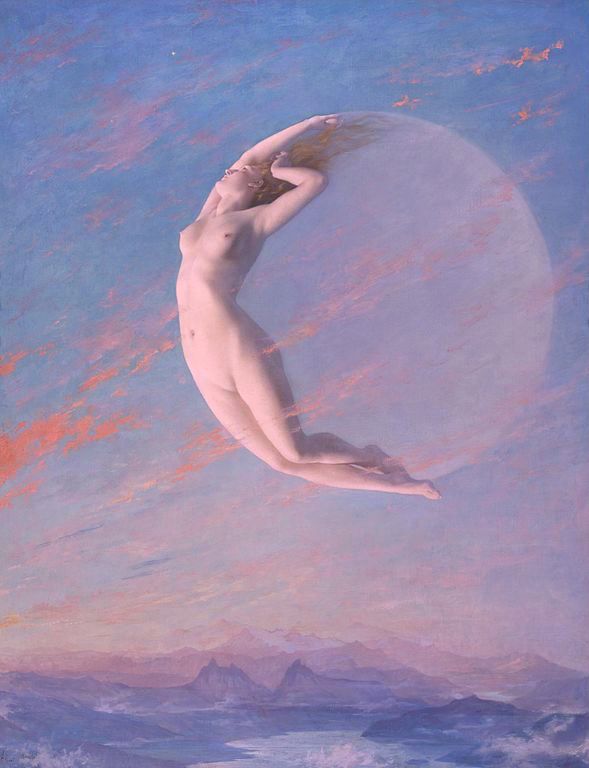 Jupiter's four largest moons (it has 64 total), discovered by Galileo in 1610,  are named Io, Europa, Ganymede and Callisto.  How unique and romantic each name sounds.  Our own moon, on the other hand, is simply called "The Moon", an egotism of naming left over from a time when we thought Earth's satellite was the only one in existence.
Luna, the Latin word for moon, was also the name of a goddess who personified the Moon, like her Greek counterpart, Selene.  Both of these are lovely.  It seems a pity that "Moon", a term also defined as a verb that describes the act of someone baring their backside, is the official name approved by the International Astronomical Union (IAU) for Earth's luminous and constant companion, whose reflected light reminds us nightly that darkness will always be followed by the dawn.
The Full Moons of each month do have names, one for each:
January – Wolf Moon
February – Snow Moon
March – Worm Moon
April – Pink Moon
May – Flower Moon
June – Strawberry Moon
July – Buck Moon
August – Sturgeon Moon
September – Corn Moon
October – Harvest Moon
November – Beaver Moon
December – Cold Moon
On those occasions when I look up at Earth's beautiful moon and confess a private thought or two, I myself will go forward calling her Selene.  I hope she doesn't mind the familiar tone.  She's too lovely for a generic label.
~~~~~~~~~
In honor of June's full Strawberry Moon, here is a delicious recipe for Strawberry Mocha Moon Pies.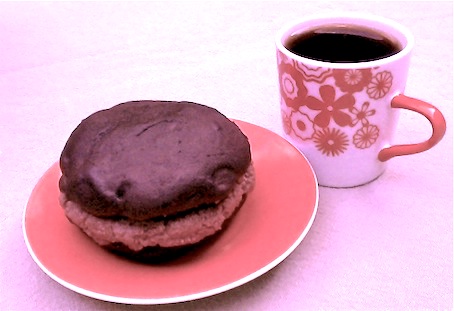 Strawberry Mocha Moon Pies
Think of these as portable strawberry tiramisù.  Each chocolate and coffee cookie-cake holds a dollop of rich strawberry flavored mascarpone filling.
Strawberry Mascarpone Filling:
8oz tub of masarpone cheese
1/4 cup good-quality strawberry fruit spread or preserves
1 tablespoon powdered sugar (can omit if using sweetened preserves)
1/2 teaspoon vanilla extract
Mocha Cakes:
3/4 cup organic sugar
1 egg
6 tablespoons vegetable oil
1 teaspoon vanilla extract
1 & 1/2 cups all-purpose flour
1/2 cup cocoa powder
3/4 teaspoon baking powder
1/2 teaspoon baking soda
A pinch of salt
Make Filling:
In a medium bowl, combine Mascarpone, 1/2 teaspoon vanilla, 1/4 cup strawberry fruit spread or preserves and 1 tablespoon sugar (you may want to omit if you are using sweetened preserves).  Mix thoroughly with a fork or an electric mixer at low speed until mixed and smooth.  Cover and chill in fridge until ready to use.
Make Mocha Cakes:
Preheat oven to 350°F
In a large mixing bowl, beat 3/4 cup sugar and egg together with a fork.  Stir in oil and 1 teaspoon vanilla and continue to beat until combined.  Set aside.
In a medium bowl, mix together flour, 1/2 cup cocoa powder, baking powder, baking soda and salt with a fork until thoroughly mixed.
Add some of the flour mixture to the bowl with the egg mixture and mix to combine.  Add a portion of the 3/4 cup of coffee and mix well.  Keep alternating adding some flour mixture and then some of the coffee, mixing between each addition, until everything is mixed together.  Use a rubber spatula to scrape sides down toward the end of mixing.
Drop by 2 tablespoon-sized mounds, two inches apart, onto a non-stick cookie sheet.  Bake for 8 to 10 minutes.  Remove from oven.  Wait a minute for cakes to set a bit, then use a spatula to move cookies to a wire rack or foil-lined counter to cool completely.
To assemble:
Remove filling from fridge.  Top one cake with one rounded tablespoon of the filling.  Top with another cake.  Continue until all the moon pies are assembled.
Makes 12 moon pies.