January 7, 2015
"And now we welcome the new year, full of things that have never been."
~ Rainer Maria Rilke
In December of 2014, Derby the dog ran down the sidewalk for the very first time.
Due to a congenital deformity, Derby was born with tiny forearms and no front paws, preventing him from moving himself along anything but soft surfaces.  A hard surface, such as a sidewalk, would cause severe abrasions on his front limbs.  Playing fetch, chasing squirrels or enjoying any of the other favorite dog pastimes that involve running was not possible for Derby – until he met Tara Anderson.
Tara agreed to foster Derby after seeing his picture on the website for Peace and Paws, a dog rescue group in Hillsborough, New Hampshire.  Finding a foster parent for a dog like Derby was good news all by itself, but the fact that Tara was an employee at 3D Systems was nothing short of a miracle.
3D Systems (3DS) is the South Carolina company that invented 3D printing, the process of making three dimensional solid objects from a digital file.
At first, Tara outfitted Derby with a cart.  This enabled him to get around, albeit awkwardly, on hard surfaces, but not to run like a normal dog.  Tara then decided to enlist the help of her colleagues, 3DS designers Kevin Atkins and Dave DiPinto.  With the assistance of a Certified Orthotist (orthotists specialize in patients requiring artificial limbs) they designed and created customized prosthetics for Derby.
Tara was worried that a traditional prosthetic leg design would dig into and get stuck in the dirt, so she chose a loop shape.  3DS created pairs of loops in different sizes, so that Derby could get used to the height gradually.
Said Buddy Byrum, a Vice President at 3DS, "The beauty of 3D printing is that, if the design needs to be adjusted, we don't have to wait for time-consuming and expensive traditional manufacturing processes, we can simply print out a new set."
Derby has been permanently adopted by Sherri and Dom Portanova.  He runs at least two or three miles a day on his new legs, sometimes sprinting past his new parents.
You can see a YouTube about Derby and watch him run on his new legs by clicking here: Derby the dog: Running on 3D Printed Prosthetics.
~~~~~~~~~
Blueberry Chèvre Scones are a deliciously new way to start your day.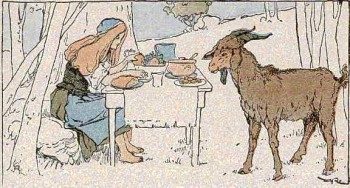 Blueberry Chèvre Scones
Made with smooth, creamy goat cheese instead of milk, these yummy scones are a sophisticated and scrumptious sweet treat, especially for friends who are avoiding lactose.  You can make them without the lemon glaze, but I think it adds an extra dimension of flavor that makes them super delicious.
2 cups all-purpose flour
1/3 cup packed brown sugar
1 tablespoon baking powder
1/2 teaspoon baking soda
1/4 teaspoon cinnamon
5 oz chèvre goat cheese
1/4 cup vegetable oil
1 large egg
1/2 teaspoon vanilla
1/4 cup water
1/2 cup frozen wild blueberries
Lemon Glaze (recipe follows)
Preheat oven to 400°F
Lightly grease a large baking pan or line with parchment paper.  Set aside.
In a large bowl, using a fork or whisk, mix together flour, sugar, baking powder, baking soda and cinnamon.  Set aside.
In another bowl, using a fork, mash chèvre with oil and mix until smooth.  Beat in egg, vanilla and water until well combined.
Add the frozen blueberries to the bowl with the dry ingredients and toss a bit to coat.  Immediately add the wet ingredients and mix gently with your fingers until the dry ingredients are moistened and the dough forms a large ball.
Divide the mound into 8 equal mounds for large scones, or 12 equal mounds for smaller scones.
For 8 large scones:
Divide dough in half; divide each half in half, then each of those in half.
For 12 smaller scones:
Divide dough in half; divide each half in half, then divide each of those into thirds.
Place mounds 1-inch apart on the prepared baking sheet and bake on center rack of oven for 12 to 15 minutes, or until tops are golden brown.
Move to a rack to cool a bit.  Brush tops with Lemon Glaze.  Eat warm or cooled.  Yum!  Store leftovers in an airtight container.  These were even better the next day, after the glaze soaked in.
Makes 8 large or 12 smaller scones.
Lemon Glaze
1/2 cup powdered sugar
2 tablespoons fresh lemon juice
1/4 teaspoon lemon zest
1/4 teaspoon vanilla
Place ingredients in a small bowl and mix with a fork or whisk until smooth.