April 15, 2016
"Often the hands will solve a mystery that the intellect has struggled with in vain."
~ Carl G. Jung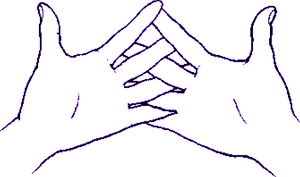 In the illustration above, the hands are forming a yoga position known as Vajrapradama Mudra.  The vajra part of that name is Sanskrit for "diamond" (signifying something luminous and indestructible) or "thunderbolt" (signifying an irresistible force).  The pradama part of Vajrapradama means "first" or "original".
Often used as part of yogic meditation, mudras are gestures of the hands that symbolize and encourage various mental, spiritual and energetic states and are thought to help manifest these states into reality.
The word diamond comes from the ancient Greek "adámas", meaning proper, unbreakable, unalterable.  Notice how similar the word is to Pradama, the Sanskrit word meaning "first".  Diamonds were probably originally recognized and mined in India.  According to geologists and contrary to popular belief, most diamonds were formed before coal (which was formed from Earth's first land plants) came into existence.  Although I am merely guessing at an etymological connection between "adámas" and "pradama", in relationship to coal, diamonds can be definitely be described as "first".
When one forms this mudra as part of a yogic or meditation practice, the hand position represents unshakable confidence in our higher self, that part of ourselves which is original, unbreakable and at one with "The Universe" or "God" or whatever name one chooses for the Soul of the World.  Forming Vajrapradama mudra symbolizes aligning ones awareness with that which came first: before the stars, before Earth, before traffic, before jobs, before election cycles, before diets, before family, before illness, before climate change, before planes, trains and automobiles.
According to a 2009 study published in the Proceedings of the National Academy of Sciences, hand gestures and signs are decoded by the same regions of the brain as spoken or written words.  So striking a pose with your hands has the potential for reaching your brain in the same way as repeating a phrase.
According to a 2013 article in Forbes magazine, as well as numerous recent studies, controlled breathing has been shown to help with managing anxiety, lowering blood pressure and heart rate, and even increasing brain size.
When you are having a "coal" kind of day; when you feel frustrated, anxious, disappointed or worried, it is important to take a few moments to align with and remember that "diamond" part of yourself – that original, unshakable, unbreakable part of you that lies within.  Forming Vajrapradama mudra and doing a few minutes of conscious breathing can help to ground your mind and body in the eternal when the chaos of everyday life is making the present moment feel a bit shaky.
Here's how:
Sit or stand comfortably.  Inhale deeply through your nose as you bring your hands together at your solar plexus (the part of your abdomen just above your navel and below your rib cage).  Clasp your fingers together, interlocking them, but leave your thumbs free and open.  Exhale slowly, again through the nose.  Close your eyes and continue breathing in and out, slowly, evenly and deeply, preferably in and out of the nose.  Do this for at least 3 minutes, more if you can.  If your mind begins to wander, visualize a beautiful red rosebud above and between your brows.  Imagine inhaling its sweet fragrance and then as you exhale, watch it unfold into full and glorious bloom.
~~~~~~~~~
Passover matzos are in the stores again.  Use them to make Chocolate Covered Matzo Ice Cream Sandwiches.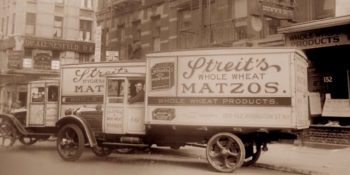 Chocolate Covered Matzo Ice Cream Sandwiches
Use your favorite flavor of ice cream to fill these yummy frozen treats.  If you intend to serve these for Passover, note that not all flavors may be considered kosher for Passover.  It's best to check the label to make sure.
12 oz bag of semi-sweet chocolate chips
1 cup heavy cream
4 plain, unsalted matzos (matzo crackers), 6-inches square
1 quart vanilla ice cream
Optional, to decorate:
Toasted, unsalted almonds
Chocolate covered cocoa nibs
Toffee bits
Line a baking sheet with foil.
Take ice cream out of freezer to soften.  Ice cream should be soft enough to scoop easily but still firm enough to hold its shape.
Put chocolate chips into a medium-sized heat resistant bowl.  In a small, heavy saucepan over medium heat, heat cream just until beginning to bubble (do not boil).  Pour hot cream over chocolate chips in bowl and stir until smooth (takes several minutes).
Place 4 crackers side by side on the foil-lined sheet.   Spread chocolate mixture in a thick layer over one side of each matzo cracker.  Place tray in freezer for 5 minutes to harden.  Turn matzos over and spread chocolate on remaining sides of each cracker.  Return to freezer to harden for 5 minutes.
Scoop half of the ice cream onto each of two coated matzos and spread out gently to edges, keeping a square shape.  Use an offset spatula to even out the surface.  Top with remaining chocolate coated matzos.  Drizzle remaining chocolate mixture over tops in a decorative pattern.  Optionally, you can sprinkle nuts, cocoa nibs or toffee bits over the drizzled chocolate as decoration.  Place in freezer until ice cream is hard.  Once frozen, cut each sandwich into 4 squares.  You can then wrap them individually to enjoy later or you can serve immediately.
Makes 8 ice cream sandwiches