August 20, 2014
"Until one has loved an animal, a part of one's soul remains unawakened."
~ Anatole France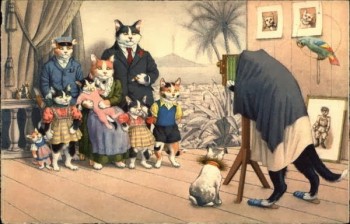 As I sit writing this week's post, my cat Folsterman relaxes on top of the desk, next to my computer.  He likes to rest his paw on top of my left arm as I type.  He occasionally looks up into my eyes and meows.
I have had Folster and his sister, Sofia, as part of my family since they were just one day old.
Twelve years ago, I had just pulled into the grocery store parking lot when I noticed a shopping cart, empty except for a small shoe box sitting inside.  Something told me to look in that shoe box before I went in to shop.  My instincts were correct. Inside the box were four tiny, just-born kittens, apparently abandoned without their mother.  I took the kittens to the local emergency pet hospital, where the on-duty veterinarian examined them and told me that they were about one day old.  She gave me some kitten formula and showed me how to feed them with a bottle, then how to wipe their little backsides with a warm, wet cotton ball afterwards.  Apparently, the mother cat does this with her tongue to help the kittens go to the bathroom after eating.
The next several weeks were filled with bottle feeding (each kitten had to have a separate bottle, every two hours, at the correct temperature), cleaning them and trying to keep them warm.  One kitten died in my arms within the first three days, possibly because he had no mama cat to snuggle up to and he got too cold.  After this heartbreak, I had to create make-shift incubators to keep the remaining kittens warm.
I successfully kept alive the remaining three and taught them to eat solid food, use their litter box and become fine, upstanding feline citizens.  I found a home for one of them.  The remaining two, Sofia and Folsterman (Folster, for short), have lived with me ever since.
As they have had a human mom since all but day one of their lives, they imitate me in many ways.  They like to watch television; they reach out to pet me like I do them; they are quite talkative.  Sofia likes to sleep with her head on the pillow and her body under the covers, like her mom.  When I am not feeling well, Folster sits next to me.  He also chases intruders out of the yard.
I was watching a football game the other night when I noticed Folster doing something strange.  He had taken a mouthful of his food from his bowl in the kitchen and carried it in his mouth, bringing it all the way into the living room and depositing it next to the couch, where he proceeded to eat it.  I couldn't figure out his reason for doing this at first.  Then, it hit me.  I laughed out loud, realizing that he was going to the kitchen, getting his dinner and bringing it to eat in front of the TV, just like he sees me do almost every night.
When people hear my story of finding and raising these kitties, they often remark, "They sure are lucky that you found them."
I have woken up each day with Sofia and Folster, shared my life with them, snuggled with them and grown with them for twelve wonderful years.  They are family.
I am the lucky one.
~~~~~~~~~
Folster loves cheese, but not just any cheese.  He prefers sharp cheddar, Parmigiano-Reggiano or Manchego.  We have the same tastes.  Cheddar Cheese Chips are tasty, cheesy, easy-to-make snacks for human cheese lovers to enjoy and perhaps share with their animal friends.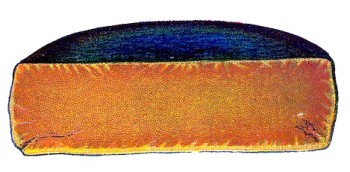 Cheddar Cheese Chips
These can be made with good Parmesan cheese as well as sharp cheddar.  Serve as a tasty garnish with salads, soups, etc.
You will need:
8 0z of freshly grated sharp cheddar cheese
Heat a 10-inch non-stick skillet over medium heat.  Using one rounded tablespoon for each chip, make little piles of grated cheese in the pan, using a spatula to lightly flatten and shape the cheese into 2 to 3 inch rounds.  Cook until golden brown (about 2-3 minutes) then flip carefully with the spatula and cook other side.  Do not leave the pan unattended.  The cheese can smoke if it starts to burn and set off your smoke alarm.
Drain chips on paper towels  and store in a covered container.
Makes 24 chips