October 22, 2014
"Those who dream by day are cognizant of many things that escape those who dream only at night."
~ Edgar Allen Poe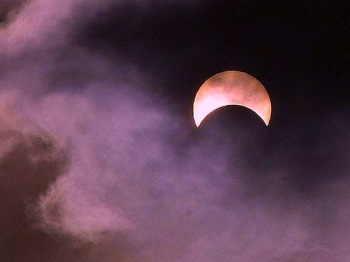 Thursday, October 23rd, North Americans will watch the Moon take a bite from the Sun.  A partial solar eclipse in the late afternoon will occur when a portion of the Moon moves in front of the Solar light, reshaping the setting Sun into a bright, yellow crescent.
Sunset is the in-between time, when day becomes night, when the bright light of reality (day) meets the indigo-blue of dreams (night).  It is a lovely time for creating an image of, for imagining, your future.
Take a walk at sunset, if you can, and use this time to imagine your most heartfelt wishes coming true.  Sometimes what we desire seems impossible because all we can see is what stands in the way of our dream's fulfillment.  Remember that any seeming obstacles to the realization of your goal, be they financial or otherwise, are not necessarily permanent.  Like the spectacle of the Moon taking a bite out of the Sun during a partial eclipse, those impediments are only temporary.  Behind the appearance of obstruction, the light of possibility remains: full, glorious and powerful.
Let your mind and your heart see beyond what is visible today.  Just as the Moon will eventually pass beyond the Sun, revealing the entirety of its brilliant light, so the present obstacles to your goal will not always seem insurmountable.  A new day will illuminate new ideas and opportunities.  For now, give thanks for the world as it is in this moment, and, as you watch the clouds move across the sky, as you admire the crescent-shaped sunset of a partial eclipse, remember that this too shall pass.
Get a good night's sleep.  Tomorrow is another day, and you have dreams to realize.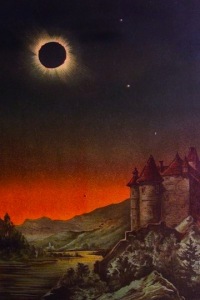 ~~~
Remember not to look directly at a solar eclipse.  For more information and the best times and locations for viewing, go to timeanddate.com and type in the name of your city.
~~~~~~~~~
Dark can be delicious… and a good source of magnesium.  Bake up some Black Bean Blackout Chocolate Bread for a dessert that is both yummy and nutritious.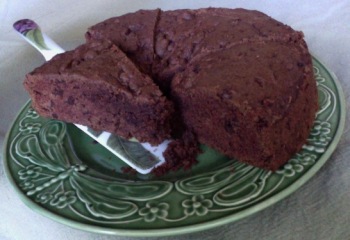 Black Bean Blackout Chocolate Bread
No one will guess the secret ingredient in this super-moist, rich and chocolatey quick bread. Black beans and dark chocolate are both excellent sources of magnesium.  I used Alter Eco's Dark Blackout Organic Chocolate for this recipe.  You will need about 2 (2.82 oz) bars.  I also used their superb Organic Mascobado Cane Sugar, a lovely unrefined caramel-rich brown sugar.  Alter Eco products are Fair Trade Certified.  You can find them at Whole Foods Markets or online at alterecofoods.com.
1 (15 oz) can organic black beans, drained and rinsed
1/4 cup strongly brewed coffee, cooled
1 egg
1 cup light brown sugar
1/2 pound (2 sticks) butter, melted and cooled to room temperature
1 & 3/4 cups all-purpose flour
1/4 cup cocoa powder
1 teaspoon baking soda
1/2 teaspoon ground cinnamon
1/4 teaspoon ground allspice
1 cup dark chocolate pieces*
*If using the Alter Eco Dark Blackout or other dark chocolate bar, break into pieces and place in a plastic zipper bag.  Using a mallet or a rolling pin, pound chocolate through the bag into very small pieces.  Measure out a rounded cup and continue with recipe.
Preheat oven to 350°F
Drain and rinse beans and place into a food processor or blender with the coffee.  Puree until smooth.  Use a spatula to scoop all of the puree into a measuring cup.  You should have exactly one cup of pureed beans.  Set aside.
In a large bowl, beat the egg, add the sugar and continue to beat until creamy.  Add the melted butter and the bean puree.  Mix well.
In another large bowl, combine the flour, cocoa powder, baking soda, cinnamon and allspice.  Add the dry ingredients to the wet ingredients.  Stir until just combined and fold in the chocolate pieces.  Mixture will be very thick.
Scoop batter into an ungreased 9-inch round cake pan and spread in pan evenly.  Bake 40 to 45 minutes, or until toothpick inserted into center comes out clean.
Let cool in pan and cut into 8 wedges.