August 28, 2014
"When you skip voting, it's not rebellion; it's surrender."
~ Leah M. Reynolds (PACE voter registration campaign)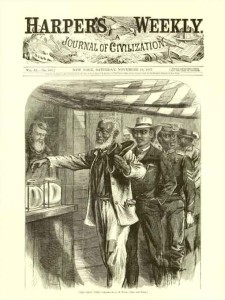 The First Vote (A.R. Waud)
Cover of Harper's Weekly
From the November 16, 1867 article:
"First Black Vote: Though there would be still so many rivers to cross and mountains to climb, this was indeed a glorious, inspiring, landmark event.  We can sense the many years this gray-haired man has waited for this moment to cast his ballot.  In line are others, including a military man."
The government of the United States of America is a government of the people, by the people and for the people.  Our leaders are elected to represent us and it is our job to cast our votes, not just for President, but in every election, in order to hire every official who would work for us.
People in many communities feel that they are not being represented by their leaders.  Unfortunately, they often do not bother to go to the polls and elect those who might do a better job of serving them.  If your leaders are serving the interests of the few, that is probably because those few are the ones who go to the polls and vote.
The national media is perpetually focused on Presidential elections.  While most writers and news entertainers are doing stories on possible 2016 candidates for the Presidency, we have a mid-term election approaching this November.  Many folks don't bother going to the polls in the mid-terms because they don't realize that the Presidency is only one branch of our Federal government, which is only one part of our system of multiple governments.
The United States of America is a federalist system and, therefore, is made up of 51 separate governments (50 state governments plus the Federal Government).   The Federal Government is made up of three co-equal branches: The Legislative (Congress), consisting of the Senate and the House of Representatives; the Executive (President); and the Judicial (Supreme Court).  The President is elected every four years, but many Senators and House members come up for re-election during the mid-terms.
The Presidency is the most visible branch of our Federal Government, but it is only one part.  Congress passes laws and budgets, authorizes funding (including military spending), approves Presidential appointments of agency heads, judges and ambassadors. Congress also oversees our Intelligence services, like the CIA and NSA.  Supreme Court judges, accountable to no one, are appointed for life by Presidents but approved by Congress.  If the Supreme Court strikes down a law, Congress can pass a new one.
The state and federal legal systems are completely separate.  Each state has its own elected governors, state legislators, commissioners and judges.  Governors, state legislators, mayors and city councils all make policy that affects your daily life.  Some state and local judges are appointed, but many are elected.  In some towns, Sheriffs and Police Chiefs are elected positions.
Only 10% of eligible residents in Ferguson, MO voted in the last city council election.  The District Attorney, who oversees the Michael Brown shooting case, is up for re-election this November, in the mid-term elections.
Every election cycle there are the predictable calls from those in the "Fight the Power" business for the people to teach the powerful a lesson by staying home and not voting.  To those who would dissuade citizens from participating in their own government, I would answer that, when you refuse to vote, the only thing you are demonstrating to those in power is that they have nothing to fear from you.  After all, it was your vote, or your choice not to vote at all, which put them into power in the first place.
Our country has a long history of brave men and women who have died fighting for the right to vote.  There are those in state governments around the U.S who are still attempting to restrict and limit voting for certain groups.  Ask yourself this: if voting doesn't matter, why are some working so hard and spending so much money to prevent it?
These are the lines to vote in Soweto during the first free elections in South Africa.  This is what voting after a long, hard-fought battle looks like: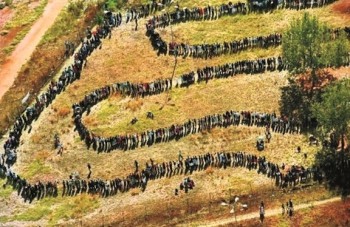 No, our system is not perfect and our candidates are not perfect.  But, the goal, awkwardly but artfully stated in the Preamble to our Constitution, is for We the People of the United States to form a more perfect Union.  The idea was not that we would someday arrive at a perfect government, but that we are forever moving toward that goal.
So get moving! Tweeting is not voting; posting on Facebook is not voting; yelling at the TV is not voting.  Register, vote.  You are the government.  Do your job.
"By your stumbling, the world is perfected."
~ Sri Aurobindo
~~~
Here are some resources to help you vote in the coming elections:
Vote Riders is a non-partisan group that helps citizens with Voter ID laws, etc:
http://voteriders.org/about/voteriders
State by State election guide:
http://www.eac.gov/voter_resources/contact_your_state.aspx
Voter Registration deadlines by state:
http://www.rockthevote.com/get-informed/elections/voter-registration-deadlines.html
~~~~~~~~~
If you always vote for hot when it comes to peppers, you'll love Pineapple Habanero Salsa.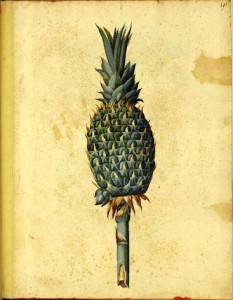 Pineapple Habanero Salsa
This super-hot but tasty and refreshing salsa is not for timid taste buds.  Be careful chopping habanero peppers.  If the juice from the peppers gets on your hand and then you touch your eyes or some other sensitive area, it can burn.  Wash your hands thoroughly afterwards or, better yet, use plastic gloves.
2 cups pineapple chunks (very small chunks)
1 cup diced cherry or teardrop tomatoes
1 fresh habanero chile pepper, diced fine (about 1 rounded tablespoon)
1/8 teaspoon ground cumin
1/4 teaspoon powdered ginger root
2 teaspoons finely chopped fresh basil
2 teaspoons fresh lime juice
Salt to taste (I used about 1/4 teaspoon)
Mix all ingredients together in a glass or ceramic bowl.  Cover and chill at least 30 minutes or until serving time.
Serve with corn chips or as an accompaniment to fish, chicken or shrimp.