July 20, 2015
"For our entire lives, Pluto was nothing more than a dot in space and now it's an entire world, with surface features and personality and – Oh my God! – this section right here looks like a heart!  It hearts us!"
~ Stephen Colbert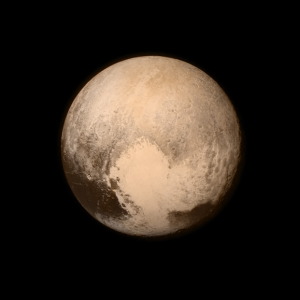 "A person's a person, no matter how small."
Many of us remember that phrase from a childhood reading of Horton Hears a Who, by Dr. Seuss.  In the classic children's tale, the compassionate and egalitarian elephant Horton is enjoying a dip in the local pool when he hears a tiny call for help coming from a small dust speck floating by in the air.  Worried that the dust speck would land in the pool, thereby drowning all the inhabitants of the tiny world it represented, Horton takes it upon himself to keep the dust speck safe by carrying it around with him on a piece of clover, enduring ridicule and persecution by those around him, who cannot believe a world that small could possibly exist.  Everything turns out alright in the end, though, and Horton and "the Whos" (the inhabitants of the tiny, dust-speck-sized world) finally achieve recognition for Who-ville and themselves.
In 2006, when a group of astronomers decided to demote Pluto from planet to dwarf planet, I was one of those who took it personally.  I grew up with Pluto as the 9th planet in our solar system.  It seemed so mysterious; after all, Pluto was named after the Roman god of the underworld.  Astrologically, the planet is associated with the sun sign Scorpio.  Those born under that sign, at the very least, like to appear mysterious.  The planet has also been, until very recently, literally mysterious; astronomers knew very little about Pluto.
That began to change on Monday July 13, when NASA's New Horizons spacecraft snapped this historic photo of Pluto just before making its closest approach to the planet on the next day.  New Horizon's 10-year, nearly 3 billion mile journey is providing data to scientists that will nourish discovery for years to come.  Already we know that Pluto's now-famous "heart" contains a region of ice and that, at 1,473 miles (2,370 kilometers), the planet is larger than previously estimated.
New Horizon's visit has generated excitement beyond the world of science. Earlier this month, the classic rock band Styx recently met with the New Horizons team. The band members were the autograph seekers this time; they got a poster of Pluto and its moons autographed by Dr. Mark Showalter of the SETI institute, who discovered Pluto's smallest moon, also named Styx, in 2012.
Stephen Colbert recently sat down with astrophysicist Neil deGrasse Tyson to argue the need to restore Pluto's full planet status.  Dr. Alan Stern, principal investigator for the New Horizons mission, agrees. In a recent interview for Spaceflight Now, he talked about how he hopes that when people see the images from the flyby, they will think of Pluto as a planet:
"I see it every day, now that people are seeing pictures of a world with moons going around it, and surface features on it, and they don't know what else to call it.  I don't think the astronomers will ever catch up.  I think they have so badly damaged their own reputation that people are just going to make fun.  I think that's the most likely outcome.  Meanwhile, in planetary science, we just call it a planet.  We don't care what the astronomers say."
I agree with Dr. Stern.
A planet's a planet, no matter how small.
~~~~~~~~~
The other day I was treated to the small, unexpected beauty of my chive plant covered in tiny purple blossoms. Crespelle with Cheese and Chive Blossoms was the delicious result.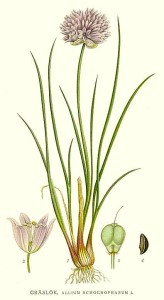 Crespelle with Cheese and Chive Blossoms
Crespelle are a form of Italian crepe.  They make an elegant and simple appetizer or a meat-free main dish when served with a simple green salad.  I like to use pastured eggs, such as Vital Farms, to ensure I'm cooking with healthy eggs from happy hens.
1/4 cup chopped chive blossoms
5 tablespoons all-purpose flour
1/4 cup Parmesan cheese, divided in half
Extra virgin olive oil (about 1/2 cup, mostly for cooking)
6 eggs
1 cup spring water
Freshly-ground pepper, to taste
1/2 to 3/4 cup grated cheddar cheese
Additional chive blossoms, for garnish
In a medium bowl, whisk chopped chive blossoms, flour, half of the Parmesan, 1 tablespoon of the olive oil, eggs, water and pepper until smooth.  Heat a large, non-stick skillet (I used a 12-inch) over medium-high heat.  Add enough olive oil to completely coat the surface of pan.  When oil is hot, pour 1/2 cup of the batter (less if using a smaller pan) into the skillet and quickly tilt the pan around to coat it evenly and completely with the batter.  Cook the crespella until golden on the bottom, 1 to 2 minutes.  Flip to other side (I never learned to flip in the pan, so I used a large spatula for this).  Cook other side 1 minute, or until golden; transfer to a plate.  Sprinkle surface with 2 tablespoons or so of the cheddar and roll into a cigar shape.  Keep warm in a low temperature oven or toaster oven while you continue cooking the remaining crespelle.  Add a bit more oil, if necessary as you go, to ensure the surface of the pan stays coated.
To serve, garnish with reserved chive blossoms, remaining Parmesan and a pinch of freshly-ground pepper.
Makes 5 or more crespelle, depending on pan size.