December 17, 2014
"Yeah, there's a lot of bad 'isms' floating around this world, but one of the worst is commercialism.  Make a buck, make a buck.  Even in Brooklyn it's the same – don't care what Christmas stands for, just make a buck, make a buck."
~ From Miracle on 34th Street (1947)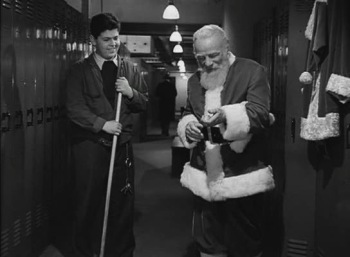 In Brooklyn, it's not the same.  58th Street in Brooklyn, New York is the home of Uncommon Goods, an online marketplace founded in 1999, and dedicated to sustainability, social responsibility, giving back to the community and creating a rewarding place for its employees to work.
I found Uncommon Goods several years ago while searching online for "Recycled Gifts".  I was happy to find, not only some lovely items made from recycled materials, but also a large and varied assortment of unique and original gifts for all ages, households and hobbies, all made or designed by local artists and small companies.  My gift-giving suddenly became super-cool.
Then, in 2012, I watched an interview with Lew Prince, the owner of Vintage Vinyl, a small business in St. Louis.  He had met with President Obama at the White House in November of that year as part of a group of small business owners.  He was asked about the meeting and this is what he said:
"The President sat down in the room with a dozen small business people and literally said, 'What can I do for you?' And the first thing that one of us said, it was the guy who owns Uncommon Goods in Brooklyn, said 'Raise the minimum wage to ten bucks.' And, in unison, the other dozen of us went, 'Yes'."
I was so delighted to find that the cool and hip online gift store that I had been patronizing was owned by someone who supported paying people a living wage.
Fast forward to the present, the holiday season of 2014.  I wanted to help support small online business and locally-owned stores; so I decided that, this year, I would have an Amazon-free Christmas.  I needed a gift for a friend who is studying Portuguese and so I headed to the local bookstore.  There, an employee spent a full 15 minutes looking up Portuguese authors and advising me on his favorites.  The book that I chose cost me a few dollars more than it would have at a big-box store or from Amazon, but the personal advice and warm service I received was more than worth it.
I also ordered from Uncommon Goods.  When my package arrived, it contained an item I hadn't ordered and a couple of things that I wasn't happy with.  I called their customer service number and a real person, named Ebony, answered the phone.  She was helpful and friendly and spoke to me as if I were the only customer she had to talk to that day (and I know she must have been super-busy).  She immediately credited me for the items that I wasn't happy with and told me I didn't need to worry about returning them.  As we were talking, I noticed that the item that I hadn't ordered (or paid for) was kind of cool.  I told her that I wanted to keep it and asked her to charge me for it.  She responded that the item was mine, free of charge, for my trouble.  I felt like I was in a scene from the 1947 movie, Miracle on 34th Street.
In the classic Christmas film, Macy's Department Store mistakenly hires the real Kris Kringle as its store Santa.  Instructed by the management to push slow-moving toys to the children coming to see him, Kris instead directs their parents to Macy's competitor, where they can fulfill their children's wish at a lower price.  The manager of the toy department is horrified when he finds out, and wants to fire Kris, until the shoppers begin professing their undying loyalty to Macy's because "they put customers first" and "they understand the real meaning of Christmas."  I'm guessing that Kris Kringle is now employed at Uncommon Goods.
The exchange of gifts that is traditional at this time of year is supposed to be a chance to give from our hearts to the hearts of others.  It shouldn't just be about errands to be run, obligations to fulfill, and money to be made or spent.  We ought to put just as much thought into the places we shop as we do into the items we purchase.
In an era when corporations staff their customer service departments with robots rather than real people ("Press one to be frustrated in English…") and treat employees as disposable commodities, I want to help support businesses like Uncommon Goods, and help to show the world that putting people before profits is profitable.
~~~
If you forget the name of uncommongoods.com, you can always find the link on the right-hand side of this blog, under the Elaborations section.
~~~~~~~~~
Lemon Cream Biscotti make a lovely gift from your kitchen.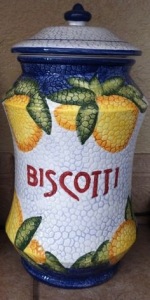 Lemon Cream Biscotti
These biscotti are delicately flavored with lemon and vanilla and generously drizzled with real white chocolate.  For Orange Cream Biscotti, simply substitute orange zest for the lemon zest.
1/2 cup organic sugar
4 tablespoons butter
2 eggs
1 tablespoon lemon zest (1 to 2 medium lemons)
1 teaspoon vanilla extract
1 & 1/2 cups all-purpose flour
1 teaspoon baking powder
Scant 1/8 teaspoon salt (1/4 if using unsalted butter)
1 (12 oz) package white chocolate chips
(Use white chocolate made with real cocoa butter and real vanilla)
Preheat the oven to 350°F
Line a large rimmed baking sheet with parchment paper.  Set aside.
In a large bowl, cream the butter with the sugar using a large fork or electric mixer on slow.  Add the eggs, one at a time, and beat well after each addition.  Add the lemon zest and vanilla and mix thoroughly.  Set aside.
In a another bowl, combine flour, baking powder and salt.  Add the dry mixture to the bowl with the wet ingredients.  Beat until well mixed.
Scoop the dough onto center of the prepared baking sheet.  Lightly flour your hands and flatten the dough into a 4-inch by 10-inch rectangle (I use the edge of my fist, lightly).  Bake the rectangle, rotating the baking sheet halfway through the cooking time, for 25 to 30 minutes, until lightly browned and set.  Move the parchment with the rectangle onto a cooling rack and cool for 15 minutes.
Reduce the oven temperature to 300°F
Place the rectangle on a flat work surface.  Using a serrated knife, carefully cut crosswise into about 1/3-inch slices.  Place each slice cut side down on the baking sheet.  Bake the slices, rotating the baking sheet halfway through cooking time, for 20 to 23 minutes, or until crisp (but not too brown).  Move the baked slices to cooling racks to cool.
In a small, heavy saucepan, melt the white chocolate chips over very low heat, stirring constantly until smooth.  Using a spoon, and a zigzag motion, drizzle each of the biscotti very generously with the white chocolate.  Let  cool completely.  You may need to cool them several hours or overnight for the white chocolate to harden sufficiently for packaging.  Store in an airtight container or in plastic baggies at room temperature.  Best if eaten within 3 or 4 days.
Makes about two dozen biscotti